Here are various Idolm@ster 2 menus, options, and dialog boxes in English. This page is intended as a quick reference if you need to remind yourself of what something means. Links for actual discussion and explanation are provided in the individual sections.
Main Menu
Edit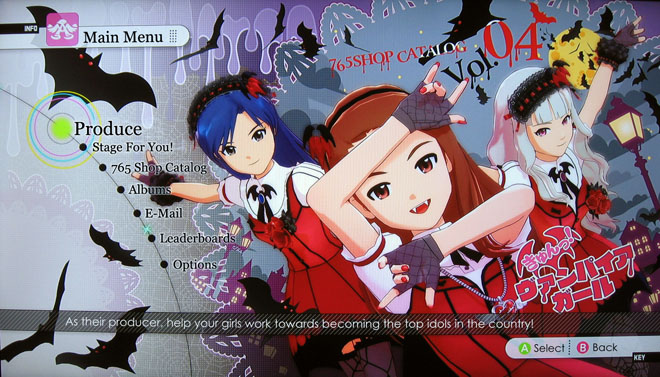 Produce

Play Now
Producer's Report

Stage For You!
765 Shop Catalog

View Catalogs
Download New Catalog

Albums
E-Mail
Leaderboards

Fan Count Ranking
Recent Music Videos
Song High Scores
For more information see the Idolm@ster 2 Main Menu.
Options Menu
Edit
System Settings

Autosave
Stage Performance Scene Skip
Appeals
Burst Appeals
Vocals
Music
Speech

Attire Settings

Summer Clothes
Winter Clothes
Swimsuit
School
Lessons

TV Latency Calibration
For more information see the Idolm@ster 2 Options Menu.
Dialog Boxes
Edit
Options Menu Exit
Edit

Frequent In-Game Choices
Edit